Natural Park Paneveggio - Pale di San Martino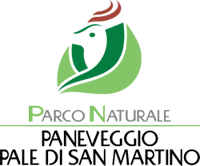 More than 190 km² of water, rocks and forests to explore and discover step by step.
The Natural Park is not only a protected area, but also offers many chances to discover the culture and traditions of a long-lived mountain.
Four small naturalistic and ethnographic museums that show the most significant aspects of the park and offer an in-depth study of various themes.
In Val Canali, the Villa Welsperg, historical dwelling of the homonymous counts, has housed the administrative office of the Natural Park since 1996. It hosts a modern and well-developed tourist centre with large exhibition areas (a room that houses an acquarium, a xylotheque, a collection of minerals and a collection of shrubs), a learning laboratory, a multimedia library, a large garden with a pond, an antique roses area, a garden with officinal plants, and a labyrinth garden.
At Paneveggio the tourist centre narrates the themes of the forest. A few steps away there is a fenced enclosure for deer and also a forest trail that leads to a suspended bridge over Travignolo.
At San Martino di Castrozza the visitor centre offers insights into naturalistic aspects related to geology, paleontology, to animals and to high altitude surroundings of this protected area.
At Canal San Bovo the Ethnographic Trail of Vanoi is presented as a set of paths leading from the inhabited Caoria to Malga Vesnota passing through Valsorda and Valzanca.
Visit the Natural Park Paneveggio - Pale di San Martino website [it-en].