School of Mountaineering and Ski-touring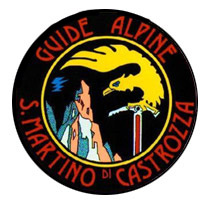 In 1881 there was already a recognized group called "Guide Alpine of Primiero" (Alpine Guides), but it was only at the beginning of the twentieth century that this group adopted the name of "Aquile di San Martino" (Eagles of San Martino) given to them by their wealthy clientele that recognized their special bravery and exceptional courage. Amongst them, Michele Bettega (first Alpine Guide of Primiero), Bortolo Zagonel, Giuseppe Zecchini and Antonio Tavernaro that had a wide international reputation.
The "Aquile" Group, the most numerous of Trentino, seeks to spread and promote cultural activities, historical representations and shows how the Alpine Guides have evolved from its origins in the 1800s to today.
The Guides are available to the vacationing clientele with a vast and diverse programme: Nature walks, hiking in summer and winter with snowshoes, trekking, climbing routes, all levels of mountain-climbing, ski mountaineering trips, iced water falls, rock-climbing and ski mountaineering courses and other school activities.
Visit the Aquile di San Martino website [it].